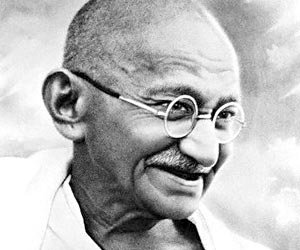 A sense of peace, non violence and justice for the common man – virtues Mahatma Gandhi has instilled in Indians is now becoming highly popular in China. His autobiography – The Story of My Experiments With Truth, which has already sold more than 200,000 copies in India alone and has been translated in to some 35 languages, will now be translated in Mandarin to cater to what Chinese scholars say is the "growing interest" in the leader in their country.
Academics from the Sun Yat-Sen University in Guangzhou are expected to translate what is known as the holy grail of the non violent fight for justice. "A lot of people, especially the young, in China are interested about Gandhi's work but unable to find anything in the local language," Dr Huang Yinghong, the University's main translator told the BBC, adding that he planned to launch the five volumes of translated works by the end of the year.
Gandhi isn't the only Indian to have his works translated into Mandarin, making them accessible to another fifth of the worlds population. Rabindranath Tagore who composed the Indian national anthem, also had his poems translated into Mandarin. Tagore in fact is a highly respected and known poet in China. When his links with romanticizing pre-Mao China became known recently, the Indian government inaugurated a bust of the bard in central Shanghai as a mark of his intercultural exchanges.
Although Gandhi, unlike Tagore, never visited China, his motivations, speeches and actions touched a chord with her people. The resurrection of interest in Gandhi now, comes at a time when the Chinese are looking for social equality, justice and freedom from political prejudice. By seeking solace in the method in which Gandhi fought the Indian Independence struggle, the Chinese are showing a preference for a non violet peoples movement to herald change.
Gandhi in fact is even more relevant today as an increasing number of Chinese look within to understand themselves better, realise that they can be the harbingers of a better standard of living and demand greater freedoms. Having being exposed to the world outside China, many Chinese now want the freedom others have through Gandhian virtues of non violence.
Dr Huang believes Gandhi's teachings "may help people and the state [in China] to consider better ways to express their complaints", lets hope the book inspires many to mobilize her people positively.